9 Reasons Smooth Fusion Recommends Sitefinity CMS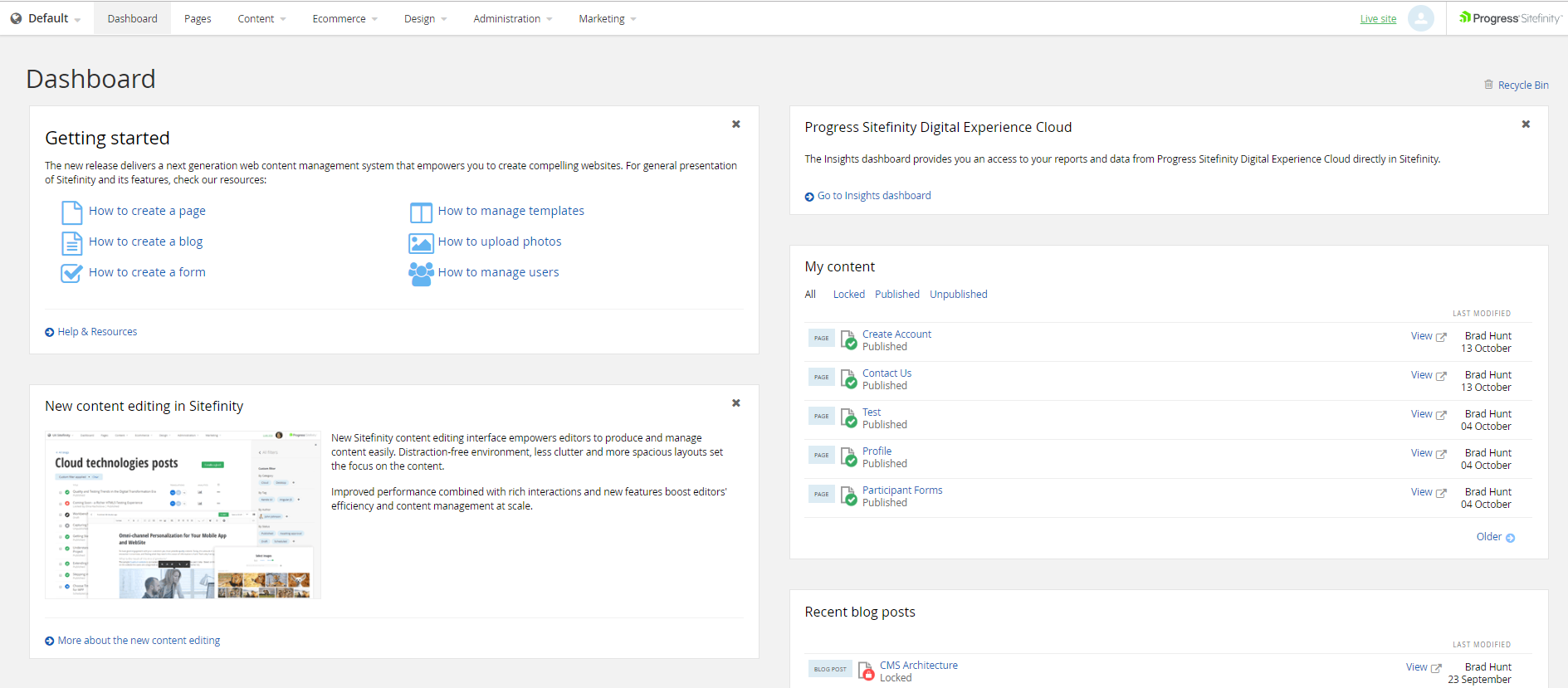 For more than 18 years, we at Smooth Fusion have worked with many content management systems (CMS). Our goal is to always match the right tools to the specific digital need, which has led us to gain experience in a number of CMS products, including Ektron, Sitecore, Umbraco, Kentico, and WordPress. But in recent years, we have increasingly recommended Progress Sitefinity CMS. Here is why.
Powerful. The clients and brands Smooth Fusion works with need powerful solutions. We have found Sitefinity to be a full-featured and impressive web content management platform. For example, Sitefinity stores document and page revision history indefinitely, providing an audit trail for legal departments. Additionally, a customizable, efficient workflow feature allows content editors to submit changes for approval by senior team members before being published on the live site.
Easy to Use. Sitefinity has an intuitive drag-and-drop interface that allows users to create and edit pages without any HTML/CSS or coding knowledge. A new page layout can be created in minutes with your branding and navigation already in place, and formatted copy can be entered straight from Microsoft Word.
Customizable. The "out-of-the-box" feature set of Sitefinity is impressive, but it is also possible to add new features, such as the custom recipe management modules we created for brands like al fresco. The Sitefinity platform provides a reliable foundation for whatever custom code we need to develop. Sitefinity modules provide a way for developers to power dynamic front-end pages.
Useful Features. Sitefinity has some valuable features to extend functionality and allow buyers to craft the right license for their needs. One of our favorites is Site Synchronization, which allows updates to be made on a separate staging site that are then queued and scheduled for selective or mass publishing. We also frequently utilize the Email Campaigns module to create, edit, and manage email campaigns, mailing lists, and subscribers. The email templates can be configured right from the CMS and customized by developers if necessary. This feature also provides tracking and analytics. These examples just scratch the surface of the features we have implemented. Other beneficial features include Content Personalization, Load Balancing, Blogs, Multi-site, and Multilingual support.
Responsive Design. At Smooth Fusion, the majority of sites that we build employ some level of responsiveness to adapt screen size to mobile devices. Sitefinity works well with this approach, called responsive design. Responsive design allows marketers to present the same content in tailored layouts for each device and screen size used to access the site, as well as create an "app-like" experience for small screen devices. You can learn more about responsive design in this article.
Built on .NET Technology. Sitefinity is based on standard Microsoft technologies, including the .NET platform and SQL Server. That allows us to leverage our extensive experience with Microsoft technologies to provide clients with high-quality implementations. Additionally, because Sitefinity is based on .NET and Microsoft SQL, sites can be deployed to Windows Azure and run in the cloud for high availability.
DEC (Digital Experience Cloud). The Digital Experience Cloud (DEC) is a system of seamless experiences that help a marketer profile, understand, and follow the customer journey through your product or brand. With integration of web data across all sources, you are provided with unique insights into your customer's journey with your brand. This can help answer the all-important questions: Who are your customers and what can you do to optimize conversions?
Third-Party Integrations. Sitefinity comes with connectors to third-party enterprise platforms such as Marketo, Salesforce, and SharePoint. Even more connectors are available via third-party software vendors.
Built for Enterprise. Sitefinity is a platform designed for large enterprises. Besides being extendable and built on .NET, Sitefinity is secure and scalable. These features give IT managers the confidence necessary to deploy Sitefinity into the most demanding environments.
In summary, we have found that Progress Sitefinity is a robust and easy-to-use CMS with cutting-edge features. If you would like to see a demo of some of the many sites that we have completed on the Sitefinity platform, contact your Smooth Fusion account manager or email [email protected].
Smooth Fusion is a custom web and mobile development company and leading Progress Sitefinity CMS Partner. We create functional, usable, secure, and elegant software while striving to make the process painless for our customers. We offer a set of core services that we've adapted and refined for more than 250 clients over our 18 years in business. We've completed more than 1800 projects across dozens of industries. To talk to us about your project or review our portfolio, send us a message and one of our project managers will reach out to you quickly.